Welcome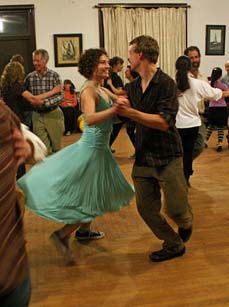 Come join us on the first Fridays of each month for contradancing at the One World Conservation Center 1.2 miles south of the intersection of US 7 and Route 9 in Bennington, Vermont. Click here for a map.
Dance from 7:30 to 10:30. All dances are taught, and beginners are welcome. Come with or without a partner. Admission is $10.
Upcoming Dances
January 3, 2014

Caller Steve Howland, Music by Bliss and Robbie McIntosh & Friends

February 7, 2014

Caller Warren Doyle, Music by CoinciDance

March 7, 2014

Caller Luke Donforth, Music by David Kaynor & Friends

April 4, 2014

Caller Peter Stix, Music by Spare Parts with Eric Buddington

May 2, 2014

Caller Melanie Axel-Lute, Music by Wintergreen

June 6, 2014

Caller Fern Bradley, Music by Tenpenny Bit
Posters
Help promote the dance! Put up our poster at your favorite gathering place, bulletin board, in your shop window, etc. The more people that know about it, the better this dance will be!