Welcome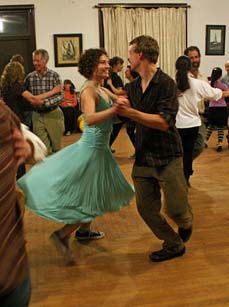 Come join us for the remaining first Fridays of 2015 for contradancing at the One World Conservation Center 1.2 miles south of the intersection of US 7 and Route 9 in Bennington, Vermont. Click here for a map.
Dance from 7:30 to 10:30. All dances are taught, and beginners are welcome. Come with or without a partner. Admission is $10.
Upcoming Dances
December 4, 2015

Final dance: Caller Fern Bradley, Music by Set Americain
Farewell
The Bennington Contradance will be ending after 14 years—December will be the last dance. thanks to all the gifted callers and musicians who have played for us through these years, and thanks to the wonderful dance community who came and danced, and kept it such a friendly, energizing event.