Welcome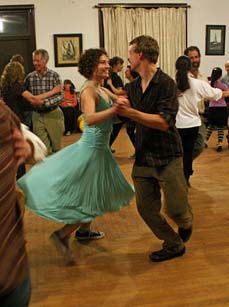 Come join us on the first Fridays of each month for contradancing at the One World Conservation Center 1.2 miles south of the intersection of US 7 and Route 9 in Bennington, Vermont. Click here for a map.
Dance from 7:30 to 10:30. All dances are taught, and beginners are welcome. Come with or without a partner. Admission is $10.
News: House Concert
On Saturday, September 6 (the day after the dance), at 7:00pm David Kaynor and George Wilson will be giving a house concert at Shadowbrook Farm, featuring beautiful fiddle duets, tunes and tales from Celtic, Nordic and American traditions. Suggested contribution is $12, les for seniors, kids, musicians or folks of limited means. For more information, phone 413-367-9380, or email
And please post this lovely flyer about the concert:
Upcoming Dances
September 5, 2014

October 3, 2014

November 7, 2014


February 6, 2015


May 1, 2015

June 5, 2015
Posters
Help promote the dance! Put up our poster at your favorite gathering place, bulletin board, in your shop window, etc. The more people that know about it, the better this dance will be!